This ROBOTIC cartoon clip got my attention. Simply because, it's the REALITY for all of us EMPLOYED. We definitely have to have an EXTRA SOURCE of INCOME. And MOST of us do find other sources, but sometimes require more EFFORT and STRESS than our PRIMARY source of earning. Watch the ROBOTIC OFFICE WORKERS.
I found out more about this business from my Facebook friends, who are EARNING from this program, PURELY online. It means all they have to do is to SIT IN FRONT OF THEIR COMPUTERS and OPEN THEIR SOCIAL NETWORKING SITES and EARN MONEY.
Now what's good about this, is that it is an AFFILIATE website combined with MULTI-LEVEL marketing, where in you can use only Facebook to earn.
This is great for OFFLINE NETWORKERS, or those Networking companies who invite prospects to seminars, explain the products and compensation plans and then finally REJECTED.
This is NETWORKING purely ONLINE.
Well, most of us will REJECT NETWORKING PROGRAMS, because we don't TALKING to TOO MANY PEOPLE.
But using SOCIAL NETWORKING SITES is also NETWORKING, but we DON'T GET PAID.
This program is called, SUPREME WEALTH ALLIANCE, THE PERFECT PAY PLAN SYSTEM
Here how I earn in this program.
Post the images of my friends earnin

g

Tag it to my friends list

Add as many friends as I can

Join groups and get to know more people, especially Filipinos

And once someone inquires, I add them to my teams Facebook Group for them to know more.
It's just that easy. No need to go to another office to get products or talk personally, and debate on something. There are 900 Million Facebook users, You can add them all, and they can get the PRODUCTS, anywhere the may be.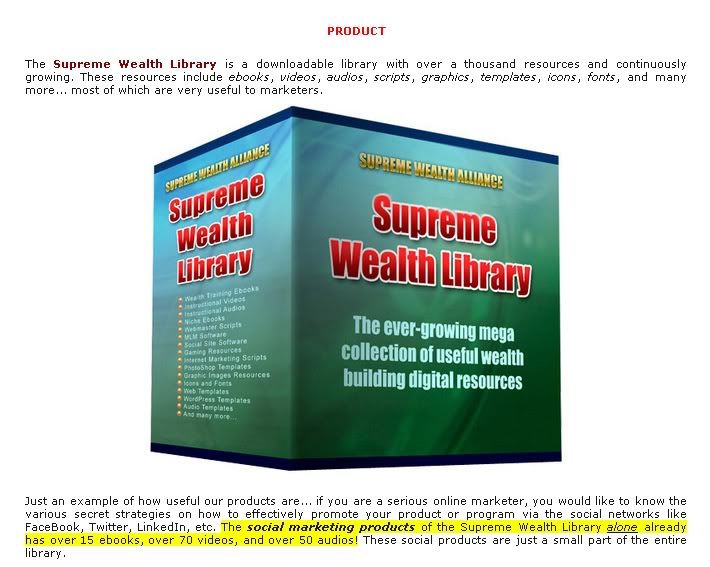 For others, they would say, "I'll just download these products from the internet!". Well good luck for you, it would take you 6 MONTHS to DOWNLOAD all, and another 6 MONTHS to READ IT ALL, before earning.
Why not PAY FOR IT, ONE TIME. Study it. And REFER it to other people. In that way you are LEARNING WHILE EARNING. Why?
Because as I have said, it is not just an AFFILIATE website, it is also under an MLM COMPENSATION plan.
AFFILIATE marketing is simply like this, you setup a website, you SELL products on your web page. Once someone BUYS, you get YOUR 30% to 40% commission. You would have to drive more than 100,000 visitors to your website to get 100 sales.
But because it has a compensation plan, YOU EARN NOT ONLY FROM THOSE WHO BUY FROM YOU, but ALSO FROM THOSE WHO BUY from those WHO BOUGHT FROM YOU!
Check out this comprehensive explanation of the PAY PLANS I am talking about.
Pay Plan 1 is the 2 x 2 Matrix
This is Pay Plan 2. 3 UP PASS UP.
If you are FAMILIAR in TRADITIONAL or OFFLINE NETWORKING, you know that this is SOMETHING BIG.
And if you are familiar in AFFILIATE MARKETING. You know that this is SOMETHING BIGGER!!!
Well this program is PRIMARILY BUILT for FILIPINOS, and then NEXT the WORLD!
That's why it has many modes of payment. Usually, AFFILIATE MARKETING programs uses
PayPal
or
AlertPay or Payza
Accounts to get their commissions. But the FOUNDER of this PROGRAM took in consideration the usual payment modes used by Filipinos AROUND THE WORLD.
Western Union

Banco de Oro

Union Bank

Union Bank EON card

Smart Money

Globe GCash
This is something that will help others have other source of income, right in the comfort of their homes, and even by making friends. This is something GLOBAL, and as I have said in the 101's, when you say INTERNET, you mean BILLIONS of PROSPECTS. You can start out in your Facebook Profile.
If you are a Filipino who wants to know more about this, please visit
www.earngreatnow.com
Put me, Rene Leanda, as your referror.